explore the highlands in style
1972 Triumph Stag - the Coventry Cruiser
For a comfortable and relaxing tour of the Highlands we would recommend our beautiful Triumph Stag. This great British V8 sports cruiser offers you the ultimate in style, comfort and looks amazing parked at Dunrobin Castle.  
The Stag is a natural born cruiser and perfect for taking the whole family out to experience the many wonders of the Highlands.  Why not watch the seals at Thurso, have an encounter with the dolphins in the Moray Firth or Chanonry Point.  Watch the salmon jumping at Rogie Falls world or enjoying the breathtaking sights such as the Torridon Triangle. 
Superbly comfortable, with room for 4 people the Triumph Stag is a total pleasure to drive.  It has power steering and an automatic gearbox so there is plenty of power when you need it and of course, you get to enjoy that famous Stag waffling V8 soundtrack. Bliss!
Engine: 3.0 V8 Petrol, 145 BHP, 160 lb.ft;
Transmission: 3 Speed Automatic, Rear wheel drive;
Steering & Suspension: Power assistance, fully independent, double wishbone front , semi trailing arm rear;
Seating: 4 with seatbelts;
Luggage space: Mid sized boot, soft bags ideally, plus option of rear set space if no passengers;
Extras: Dual USB socket, 12V socket and radio.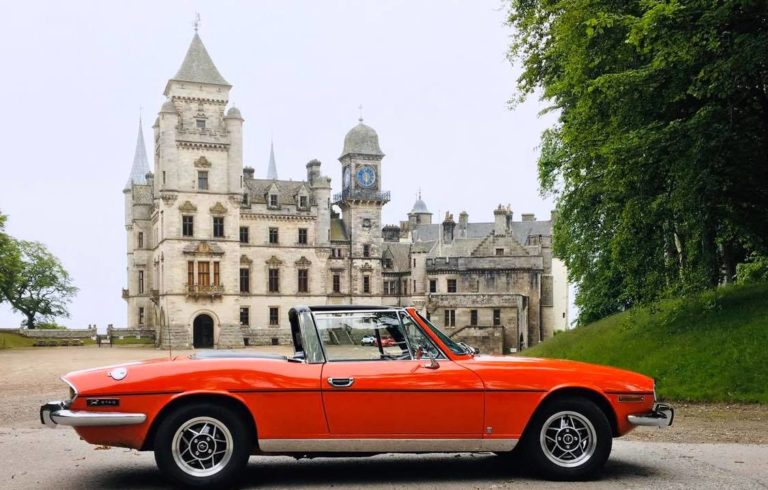 1991 TVR S3c - Blackpool Rock
Want a more involved driving experience?  Then we recommend booking the TVR S3.
This iconic Blackpool built sports car allows you to really enjoy the thrill and challenge of some of the best driving roads in the Highlands, such as the amazing Applecross Pass (Scotland's very own mini version of Italy's Stelvio Pass).  The TVR has beautifully responsive steering and sharp handling with a very distinctive deep throaty roar from the 3 litre V6 engine, yet is still comfortable and has room for your luggage. 
Enjoy an invigorating drive up to the top of the world at John O'Groats and enjoy the winding roads cross country towards Durness where you can enjoy more adventures such as the adrenaline filled Zip wire at Smoo Cave and Cape Wrath the UK's most north westerly mainland point.
The choice is yours, but whichever car you choose it will be a trip to remember.
Engine: 3.0ltr V6, 168 BHP, 191 lb.ft;
Transmission: 5 speed manual, rear wheel drive
Steering & Suspension: Power assistance, fully independent, double wishbone front , semi trailing arm rear;
Seating: 2
Luggage : Small boot but with generous additional storage behind the seats, soft bags recommended;
Extras:Dual USB sockets, 12v socket and CD Radio.
Explore the Highlands in Style